Rock the New Year with a Little Heart and Soul and A Great Life Plan for 2011
I sit at my dining room table, writing furiously after an unintended absence last week.  I am glad to be back and looking forward to slamming the door on 2010.  To kick off the year, I feel compelled to document an event that has evolved into a requisite part of my life…the annual visit from my maid of honor (Gina), her husband (Tom) and their three beautiful girls. 
We religiously gather our families together to reminisce, catch up on missed milestones, plan our goals, and share a little Auld Lang Syne in a ritualistic attempt to bid farewell to the past and welcome the future. 
Each year, the adults show up a little worse for the wear.  Life's experiences show in our faces—another wrinkle, a higher percentage of gray hair that refuses to be covered, and we complain of a few more aches, pains and physical limitations. 
We returned from our nine day Nutcrackerbuster tour to find our home flooded from the recent rains just a few days before Christmas.  My husband had shoulder surgery in the midst of the cleanup and Christmas.   In both families, careers are in transition.  Futures are uncertain, and we are all a little exhausted from the challenges we have overcome and have yet to face.  Sometimes, life just gets messy.
But through each other, we "plug in" to life's source and reconnect with the essence of who we are.  The result is that we are reminded of our potential as human beings and of what is really important. 
Once we are together, the alchemy of life-long friendships envelopes our souls.  Our collective energy naturally elevates to a harmonious resonance.  Strangely, our children have come to enjoy this tradition as much as the adults because they experience aspects of us they have never witnessed and build deep bonds with each other. 
They band together in a cat and mouse game, cornering the adults one by one, attempting to extract further evidence about our live BEFORE life began revolving around them.   They build new traditions of their own, like cooking for the adults on New Year's Eve (we've trained them well), sharing secrets playing endless renditions of Heart and Soul on the baby grand.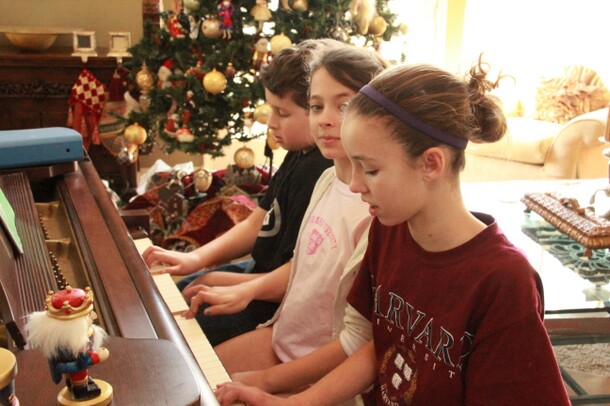 One of the highlights is the annual fashion show which involves digging deep into my daughter's closet to recreate the year's trends of "fun, funky and fancy."  Secretly, the mom's hope our two oldest, only 18 hours apart by birth, will choose each as their maids of honor.
Each year, the event takes on a life of its own, and this year will be indelibly marked by the unfortunate and sudden passing of Tom's father, Herb.  We received the untimely news during the midst of the fashion extravaganza.  House music boomed compliments of my son, DJ "Sir Mix-a-lot."  The girls paraded down a precarious, make- shift runway of side tables and stools, stepping (sort of) gracefully onto center stage, my Henredon coffee table covered in a bed sheet. 
Tom rallied, putting aside shock and disbelief for a few moments because in life (as well as in make believe show biz), the show must go on.  I only met Herb once, but in this moment, I see a reflection of who he was through Tom.  Life was meant to be enjoyed, as Herb liked to say.  He would have approved.
When the show was over, the tone of the weekend changed dramatically.   Celebration and renewal turned to the reluctant business of dealing with grief, loss, and last minute planning.  Without thought or hesitation, we were all "on task".  My husband helped with travel arrangements. I cooked.  We went to the park for a bit of fresh air and sunshine.  My kids did their best to provide comfort and diversion.
Our efforts paid off and on New Year's Eve, dinner was served at the Silver Spoon Café (my kitchen).   It's open once a year for 4 hours and run entirely by the 5 children.   We enjoyed homemade bread, minestrone, and birthday cake.   Our annual Champaign cocktails were replaced by 20 oz. glasses of fresh green juice.  Gina and I pounded through our goals between 9:00 pm and 11:59 pm and welcomed 2011 by banging pots and pans on the back porch with our kids.  Life is good!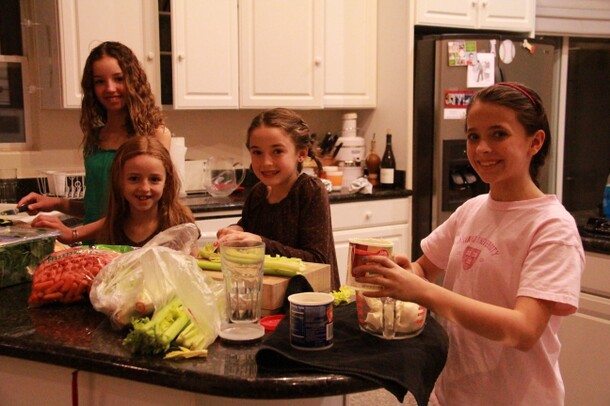 In spite of the weekend being cut short and the sad undertones of losing a father, I felt intense gratitude and comfort in the fact that through the years, our lives have intersected at the best and worst of times.  Sharing these life-defining moments serves to solidify relationships and bring clarity and purpose to life. 
Through the joy, laughter and tears, there was an overwhelming sense of the continuity of life's journey. I had an epiphany that shed new light on the next phase of my life. One thing is for certain, 2011 will hold many more big changes.  I realized that what I thought were big changes in 2009 and 2010, were just the prelude and preparation for the adventure set to begin early 2011. 
There have been many times over the past two years that I have been overwhelmed, confused, and comfortably numb.  The events of New Year's reunion 2010 pumped new life and renewed hope into my heart and soul.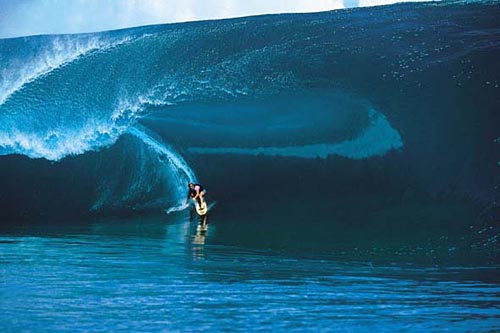 THE MESSAGE: (Top of mind after watching a video of Laird Hamilton, the famous big wave surfer riding 50 foot waves in Hawaii). 
Life is like riding a wave.  We're in the barrel feeling the thrill and then we fall.  Each wave (life) is the unique.  We will be remembered by how we ride. 
Now is the time to take stock of your life and your priorities.  Put aside grievances and petty judgments. Make this the year of real and lasting improvements. Hold onto the people who rock your world and tell them how much you love them.  Embrace them unapologetically.  ("Hug your parents," as Tom said upon hearing the news of his own father).  Eliminate from your life anything and anyone that no longer serves you, and be thankful for all your blessings.
My wish for you is that you make 2011 the year you begin creating the life you've dream of.  Get beyond resolutions.  Make a plan.  It's liberating and inspiring.
If you need a little help in this area, I have developed a process for goal planning which you can download here for free by clicking here.  You will be asked to enter your name and best email address.  After a short confirmation email (to make sure you are a real human being and not a spambot) you will be sent a pdf file you can download.  Happy planning and Happy New Year!
What big changes are you making in 2011?  Come back and share some of your experiences. 
Related post