My Top 9 Excuses for Not Being Around Much Lately (Part 2)
Thanks for joining me.  If you missed part 1, click here for a quick catch up. As you may know, I have been quietly neglecting my blog for a few months and felt it was important that you understand the completely compelling reasons for my absence.  I know you have lost sleep over this.
Excuse #6: Chicago is "my kind of town."  At least I am trying to convince myself and my kids of that because we might have to move there since my husband has been working for a firm in downtown Chicago for over a year now.
I say "somewhat" because I could have a panic attack that would keep me from actually getting in the car and leaving California even though I know, darned well that we should move to Chicago sooner rather than later and just be done with it already.   But, it will be so hard to leave our life in California…
with all this…
and this…
and come to Chicago, to this…
and this.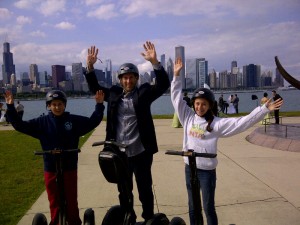 It was fun, but it just isn't home.
Excuse #5: I was lost, then invisible and then lost again.  Now, I am finding myself  thanks to my unbelievable life coach named Tricia Brennan and her newest book, "The Map of the Soul".
I am positive she thinks she lost me because of everything mentioned in this post and the last post. Now, she's all mad and won't return my emails.  I need to dig in deep so I can prove to her that I really do want to discover my life's purpose, be self-expressed and do something extraordinarily meaningful like establishing world peace, or alleviating world hunger, or something like that.
First, I would have to break the news to my husband that finding my true purpose requires that he quit his job so he can accompany me on my planet saving mission.  He would probably resent that notion because he has his own planet saving mission.
So, he might divorce me over that matter leaving me to support two kids AND a mission and who really needs that kind of complication?  So, my planet saving hunger alleviating dreams will probably have to go on the back burner until the kids are 37 (see excuse #7 for more). I think this means my mid-life crisis will become a mid-life, late-life crisis and is officially "unresolved."
Anyway, thirty seven is precisely the age I calculate the kids will finally leave the nest and move their bazillion dollar businesses that they started on my dime in my garage, into office space.  I think that will be 25 years from today.  How will I tell my life coach that I can change, but not for 25 years?  Does that mean I fail life or just life coaching?
Excuse #4: Finding myself required that I delve (deeply) into my past.  I had to go to "the source,"…the 5 yard line at U of I where I met my husband.
See those guys out there on the field?   It was right about there.
I know…You need context!
I was an "Illinette." (That's code for pom-pon girl).  They are somewhat legendary–even more legendary than the Dallas Cowboy Cheerleaders or Laker Girls, (for sure).
I found this photo in the archives.  It's not even from my year, but these were the uniforms we wore. Smokin' hot!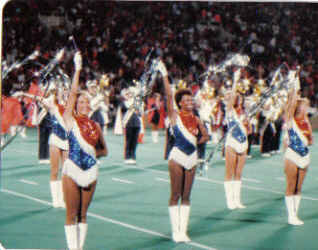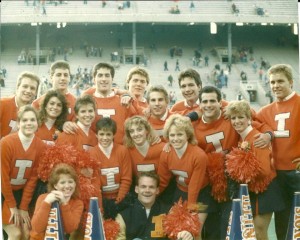 My husband was a cheerleader (3rd from the left in the top row).  Smokin' hot!
One sunny afternoon, on game day, our eyes met and it was love at first sight.
This is a true story.  I couldn't make this stuff up.  He came from northern Illinois and me, from southern Illinois and we met in the middle at University of Illinois.  As polar opposites, meeting in the middle has been our mantra for almost three decades.  It doesn't always work, but it's quite metaphorical, don't you think?
To compound the issue, we took our kids with us on this past delving adventure because watching your parents relive their past during homecoming weekend will certainly straighten you out, or at least it might explain a few things.  Strangely, the stands were packed with parents dragging their kids into their pasts.  Has mid-life crisis become a pandemic?
All things considered, what we did back then is kind of pathetic and my kid and her cousin would  NEVER engage in such silliness.  Because if they did, they might get featured in an ad for BTN or something.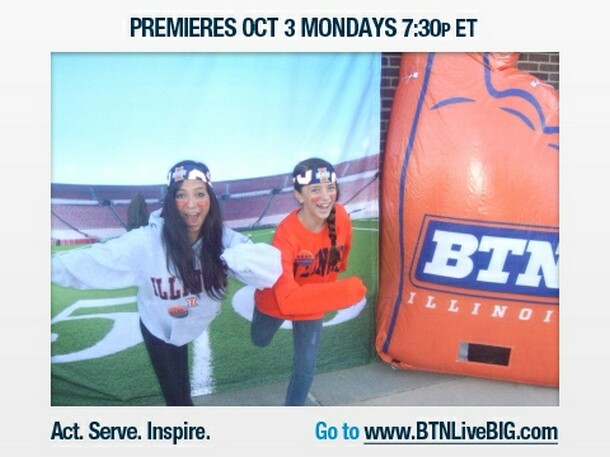 Nope.  Not them.
They patiently patronized our digressions with forced smiles, rolled eyes, deep sighs and vows that they will never be so idiotic when they are in college and then brag about it to their kids 20 years later.
I haven't told them that homeschooling until they are 36 (see excuse #7) means they will most likely miss that whole Big 10 college experience, because college would be a waste of time and money since there are no jobs for college graduates.  So, it's pointless and they should give up their dreams of following in my inspiring footsteps.
And here we are…almost through my list of excuses.  But, the fun must end so I can honor my commitment to shorter, more meaningful posts.
To be continued….
Related post