How Well Do You Know American History? Take This 10 Question Independence Day Quiz with Your Family and Friends.
detect invisible
Independence Day marks a tremendous milestone in American History–the birth of our great nation.  This year, the good old USA is 234.  Traditionally, we celebrate with parades, ceremonies, family gatherings, BBQ's and fireworks.  But, it's a perfect time to reflect on the history of this amazing country by taking a few minutes to engage your family, friends and neighbors in some 4th of July trivia.  Here's a 10 question quiz with answers that is sure to spark some lively debate.  Find out who knows their stuff, and who wasn't listening in history class.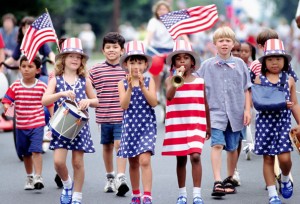 1.       Why do we celebrate July 4th?
To honor the acceptance of the Declaration of Independence by the 13 colonies.   With acceptance of the document, we publicly declared to King George III of England that we were independent states, free of the rule of the British Empire.    
Interesting fact: 
We had already been fighting the Revolutionary War for a year by the time the Declaration was accepted by the Continental Congress.
It was written by a five man committee headed by John Adams and Benjamin Franklin.  John Adams wrote the preamble but then delegated the job of drafting the declaration to 34 year-old Thomas Jefferson.
Other interesting facts about the drafting of the Declaration: 
John Adams wrote the preamble to the constitution on May 15, 1776 to give to England as a preliminary statement of intentions. 
It is thought that Thomas Jefferson pulled an "all-nighter" and based the first draft of the Declaration of Independence on several other documents that he was either working on or had with him.
He worked in a rented room on Chestnut Street in Philadelphia. 
He hated the edits made to his draft by John Adams and Benjamin Franklin.
He struggled morally with the clause that condoned slavery in the Declaration of Independence even though he was a plantation owner with over 300 slaves.  (Oh the irony.)
 3.       What was the date of the first Independence Day celebration?
The Declaration was accepted by the 2nd Continental Congress on July 4th, 1776 but the first celebration of Independence Day was on July 8th, 1776 when pamphlets were distributed to colonists.
4.       What version of the American Flag was flying?  (Describe how it looked, i.e. how many stars and stripes, colors and pattern of stars)
It had thirteen stripes in red and white and a royal blue rectangle with 13 white stars arranged in a circle.
5.       How did they celebrate the first Independence Day?
By lighting off fireworks, tearing down statues of King George III and smelting the metal for bullets.  The men drank in taverns and discussed politics.
6.        What was the significance of the fireworks?
Fireworks had been used in other countries to celebrate the birthdays of kings, but in this case, on the second Independence Day celebration, the colonists burned crude likenesses of King George III and shot off fireworks celebrating his symbolic death.
7.        When did Independence Day officially become a national holiday?
In 1870 after the Civil War, it became a National Holiday.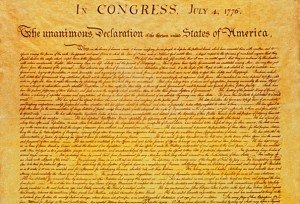 8.       Which sentence from the Declaration of Independence is often described as "one of the best known sentences in the English language?"
We hold these truths to be self-evident, that all men are created equal, that they are endowed by their Creator with certain unalienable Rights, that among these are Life, Liberty and the pursuit of Happiness.
9.       What is significant about the deaths of Thomas Jefferson and John Adams? 
They died on the same day, exactly 50 years after signing the Declaration of Independence.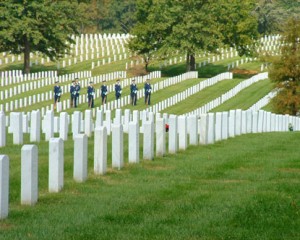 10.    How many soldiers died in the Revolutionary War? 
Approximately 25,700 American soldiers and 10,000 British soldiers.
 Please take a moment to honor them and all the others who have fought for our freedoms today.  Have a fabulous 4th. And, May God Bless America!
P.S.  I hope you have 234 candles on hand for that cake.
Related post