Firemen are Fabulous! Don't You Think?
detect invisible
I am in constant search of all things fabulous, and since devoting my attention to the topic, I have noticed that more and more fabulous opportunities are showing up in my life.
This week, I am spending time with my in-laws in Rockford, Illinois.  They live next to a Rockford fireman–Fireman Chuck to be specific.  He very kindly invited my children on a special private tour of Rockford Engine Company #8.
It was a first for my kids, and for me.  A very heartfelt thanks goes out to the firemen of Engine Company #8 for taking time to show us around.   I write this post in a tribute to the firemen accross the country who are ready to lay down their lives for us in times of trouble and dispair.
To cut us out of cars with the Jaws of Life. Those are the Jaws of Life on the bottom shelf.  I hope we never need them, but if we do, they can lift 10,000 pounds.  Might come in handy in a pinch.
To provide a safe Haven for Babies. It's so sad to think that this happens, but there are more than a few children in this country who have been welcomed by firemen.
And to give undeserving little rugrats like mine a chance to play Fireman for an hour.
They got to handle big gardening tools. See the looks on their faces?  I think they are contemplating what they could do to each other.
Chuck saw the problem immediately and distracted them with buttons and gadgets.
My son got a chance to see what it feels like in the driver's seat.
And my daughter got to toot the horn.  Look at the expression on her face.  She REALLY wants to drive that thing.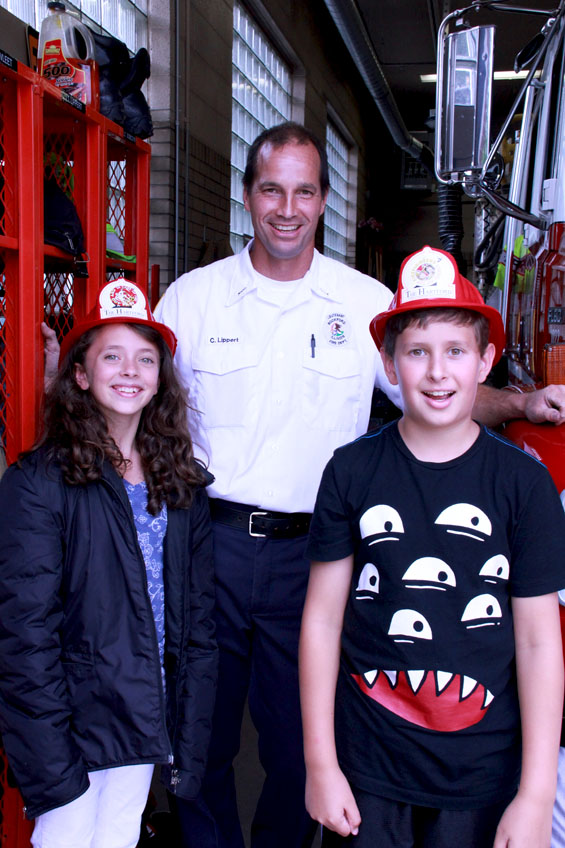 Fireman Chuck gave them each hats and made them honorary members of Engine Company #8.
And they each got to try on a fireman's jacket, to see what it would really be like.
"Really Fireman Chuck," she said, "How do you handle this load?"
In the end, she decided it was a fashion statement.
Thanks Fireman Chuck and Rockford Engine Company #8.  This is something we'll remember for a lifetime.
P.S.  Handling big equipment is the theme of this trip.  On the way here, my daughter was invited to sit in the cabin of our plane.  Another big thrill.
Related post